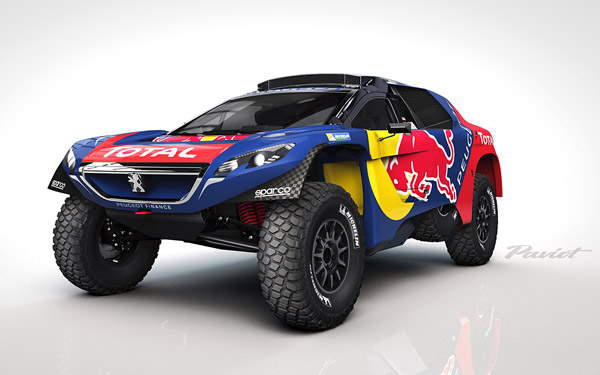 2016 Red Bull Peugeot Sport
Peugeot 2008 DKR16 Dakar Winner
THEY DID IT! Twenty-six years after their last triumph, Peugeot wins the Dakar rally for the fifth time. The paint scheme will go down in history with the splendid chrome lines and a strong GTi by Peugeot Sport identity.
ILS L'ONT FAIT ! Vingt-six ans après son dernier succès, Peugeot remporte le Dakar pour la cinquième fois de son histoire. Une décoration qui restera donc encrée dans l'histoire avec ses somptueuses lignes chromées et son identité toujours très typée GTi by Peugeot Sport.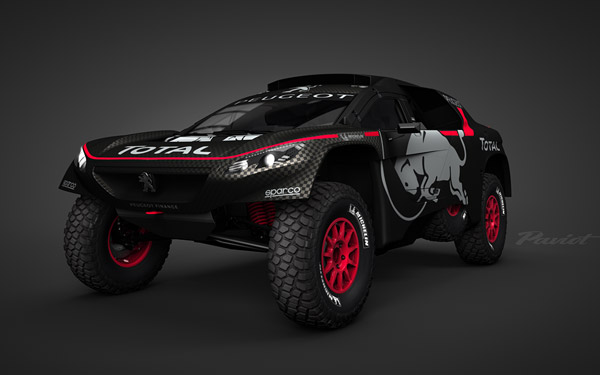 2016 the 'D-ream Team'
Peugeot 2008 DKR16
Sébastien Loeb joins Red Bull and Peugeot Sport for the Dakar rally in 2016. What a perfect opportunity to buzz around the 'D-Dream Team'! https://youtu.be/_DNzQ1iVk8c
Sébastien Loeb rejoint Red Bull et Peugeot Sport pour l'aventure Dakar en 2016. L'occasion de faire le buzz autour de la 'D-ream Team' : https://youtu.be/_DNzQ1iVk8c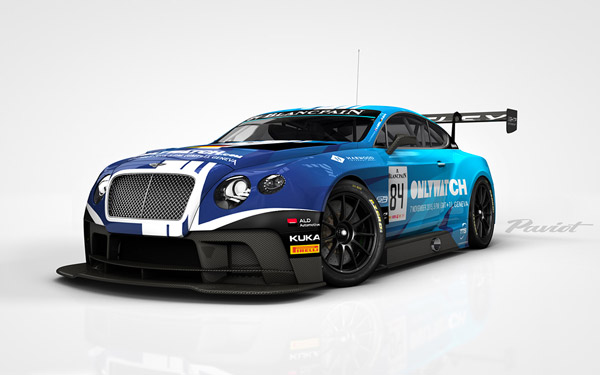 2015 Vincent Abril
Bentley Continental GT BSS Champion
WORLD CHAMPION! Vincent Abril is not a client, he is a friend. When the newly-crowned Blancpain Sprint Series winner becomes the Only Watch charity event ambassador, a special paint scheme is obviously needed. Money raised for the children and a world title: mission accomplished.
CHAMPION DU MONDE ! Vincent Abril n'est pas un client, Vincent Abril est un ami. Alors quand le nouveau vainqueur des Blancpain Sprint Series devient ambassadeur de l'évènement caritatif Only Watch, une déco digne de ce nom suit forcément derrière. Fonds récoltés pour les enfants et couronne mondiale décrochée dans la foulée : mission accomplie.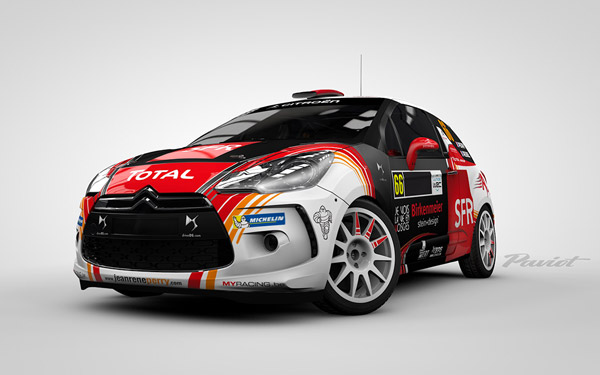 2015 Jean-René Perry
Citroën DS3 R3
From kart to F1, from local rallying to WRC, every category and every driver are represented here. Designing a new paint scheme for a car is always a pleasure, especially when it is about helping a rising star to compete at the international level. Good luck to Jean-René Perry, already an Opel Adam cup winner.
Du kart à la F1, du rallye régional au WRC, toutes les disciplines et tous les pilotes sont à l'honneur ici. Le plaisir de dessiner une nouvelle auto est toujours le même, surtout lorsqu'il s'agit d'aider un jeune espoir à évoluer au niveau international. Bonne chance à Jean-René Perry, déjà vainqueur de l'Opel Adam Cup.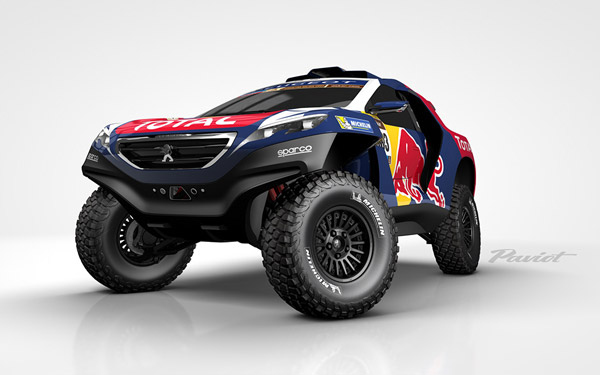 2015 Red Bull Peugeot Sport
Peugeot 2008 DKR15
After Pikes Peak, another major project with our favorite red bull and the Sochaux lion. First a learning year, then a winning year! The idea is clear and the initial car design is strongly inspired by the new GTi line of Peugeot Sport.
Après Pikes Peak, nouveau projet d'envergure avec notre taureau rouge préféré et le lion Sochalien. Une année pour apprendre, une année pour réussir ! Le ton est donné, les premières lignes de la voiture aussi avec, comme dominante imposée, les traits de la nouvelle gamme GTi de Peugeot Sport.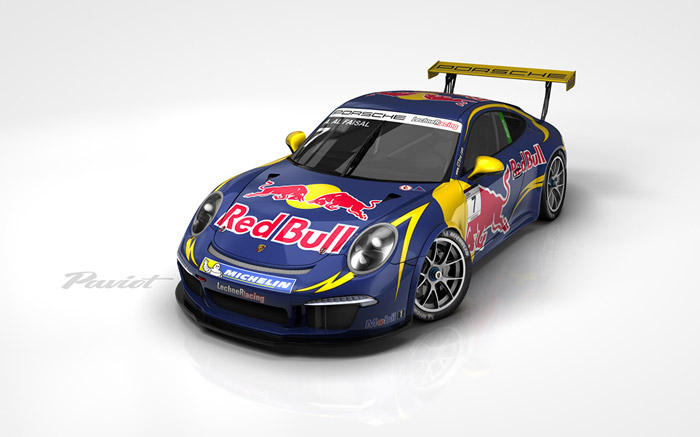 2014 Red Bull Saudi
Porsche GT3 Cup Middle-East
The partnership with the famous red beast is a direct consequence to the previous work done with Sébastien Loeb. From the Dakar sand dunes to the asphalt of race tracks around the world, this prestigious association now spreads over two and four wheels for the most legendary names of motor sports. It's such a fun adventure!
La collaboration avec le célèbre taureau rouge découle directement des nombreuses décorations réalisées pour Sébastien Loeb. Des dunes du Dakar à l'asphalte des circuits du monde entier, cette association de luxe s'étend désormais sur deux et quatre roues pour les plus grandes légendes des sports mécaniques. Et on s'éclate bien…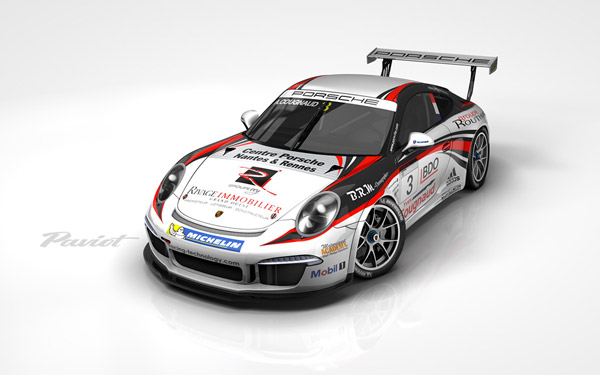 2014 Racing Technologie
Porsche GT3 Cup France
Porsche GT3 Cup cars prove to make an extraordinary work basis for a designer. This new version is no exception with the lines of the French Racing Technologie team.
Les Porsche GT3 Cup sont assurément des bases de travail extraordinaires pour un designer. Cette nouvelle version ne déroge donc pas à la règle avec ici les lignes de l'écurie française Racing Technologie.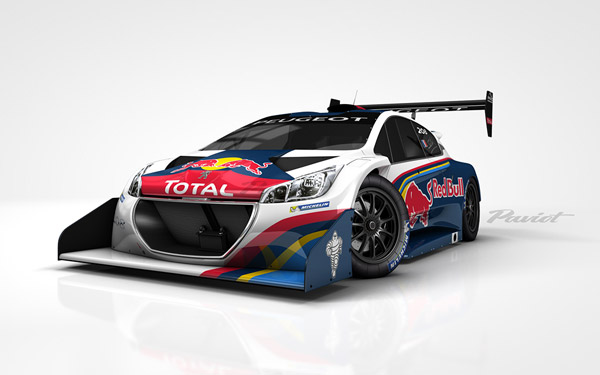 2013 Sébastien Loeb
Peugeot 208 'Pikes Peak' Winner
It's already an honor to work on the helmets of the legendary Sébastien Loeb, and even more when it comes to one of his cars. In 2013, our partnership reached another level with this outstanding livery which quickly made history. With a 875kg-to-875hp ratio, the competition did not stand a chance in the 2013 Pikes Peak event.
C'est un honneur de dessiner les casques de la légende Sébastien Loeb, ça l'est encore plus quand les crayons se posent sur l'une de ses voitures. En 2013, notre collaboration prend une nouvelle dimension avec cette somptueuse livrée qui entrera très vite dans l'histoire. Avec 875kg pour 875ch, la concurrence n'avait aucune chance lors de l'édition 2013 de Pikes Peak.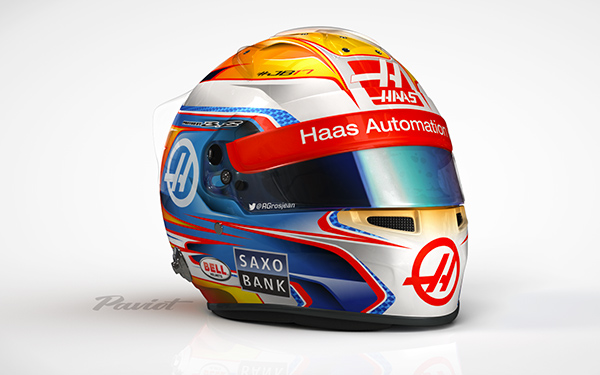 2016 Romain Grosjean
F1 Helmet
In 2016, Romain Grosjean switches team and joins the Haas F1 American crew. This is the opportunity to start over with a new design. A new patriotic logo, along with a modern and dynamic scheme referencing to his early years. New lucky colors?
En 2016, Romain Grosjean change d'équipe et rejoint les Américains de Haas F1 Team. Pour l'occasion, on refait tout ! Un nouveau logo très patriote, puis un design moderne et dynamique qui rejoint parfaitement le style de ses débuts. Alors, des nouvelles couleurs porte-bonheurs ?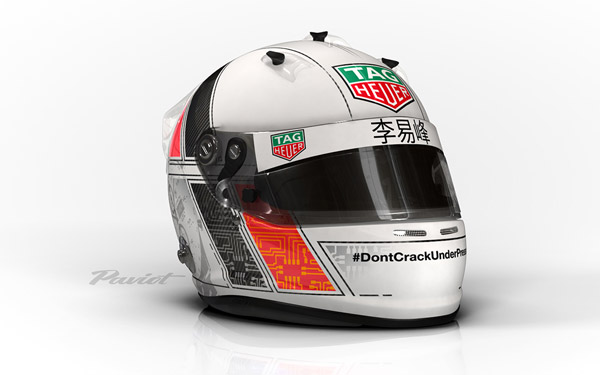 2016 Tag Heuer
FE Helmet
When Tag Heuer orders a helmet paint scheme, it is always a very special project. After the Cristiano Ronaldo edition in 2014, actor and singer Li Yifeng will bear a new paint scheme with the colors of the famous Swiss watchmaker.
Lorsque Tag Heuer commande un design de casque, c'est toujours un projet très spécial. Après le Cristiano Ronaldo en 2014, c'est l'acteur et chanteur Li Yifeng qui portera une nouvelle décoration aux couleurs du prestigieux horloger suisse.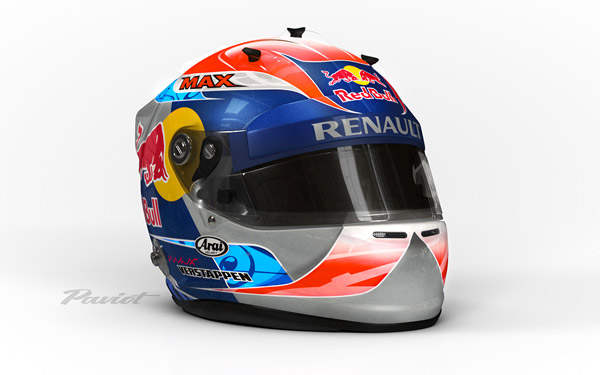 2015 Max Verstappen
F1 Helmet
In 2015, Formula 1 takes more and more importance in our work schedule with another media-friendly driver: Max Verstappen. The job must be done right for the youngest driver ever to start a Grand Prix… Talk about pressure!
En 2015, la F1 s'installe dans les plannings avec un deuxième pilote très médiatique : Max Verstappen. Pas le droit à l'erreur pour le casque du plus jeune pilote de l'histoire à prendre le départ d'un Grand Prix… Bonjour la pression !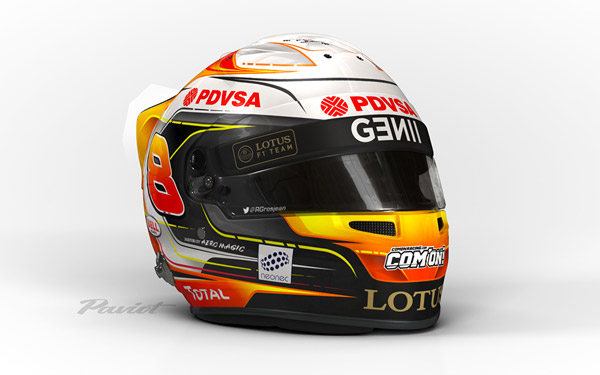 2015 Romain Grosjean
F1 Helmet
Behind the ambassador role lies a 15-year friendship. A design and art enthusiast, Romain Grosjean always participates in the process of his helmet paint scheme creation with great pleasure. It remains true in 2015 but with a major change: starting from this year, paint schemes cannot be changed during the race season. We are already impatient to get back behind the drawing board!
Derrière ce rôle d'ambassadeur se cache 15 ans d'amitié. Grand passionné d'art et de design, Romain Grosjean s'implique chaque année avec beaucoup de plaisir dans la création de son nouveau casque. L'édition 2015 ne déroge donc pas à la règle mais avec un changement majeur : à partir de cette saison, interdiction de changer de décoration en cours d'année. Ça va faire long à attendre avant de reprendre les crayons…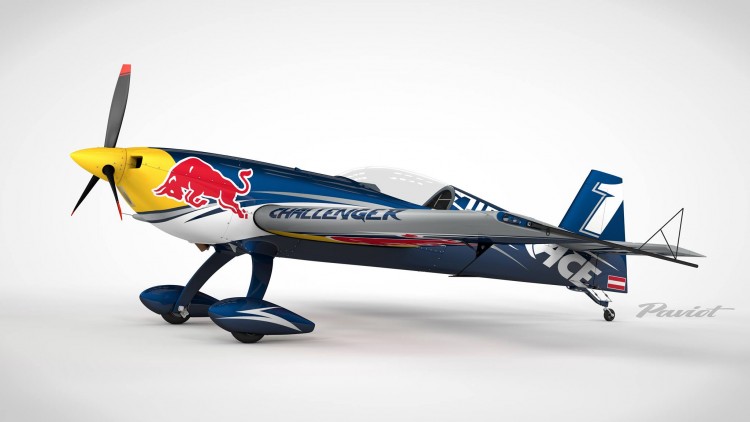 2016 Red Bull Air Race Challenger Cup
Extra 33-LX
The first time I saw my paint schemes in the sky of the Red Bull Air Race was a very special moment. Incidentally, the first plane I discovered "in real life" was the Extra 33-LX flown in the Challenger Cup by… a French female pilot! Of course, I will keep a close eye on these planes bearing the paint schemes I made with my 3-D designer, Fabien Paillissé. For this 2016 season, I will be focusing especially on Mélanie Astles, the first woman to compete in the Red Bull Air Race.
La première fois que j'ai vu mes décorations dans le ciel de la Red Bull Air Race fût un moment très particulier. Pour la petite anecdote, le premier que j'ai découvert « dans le monde réel » fut l'Extra 33-LX de la Challenger Cup, piloté par…une Française ! Alors bien sûr, je vais continuer à suivre avec beaucoup d'attention l'évolution des avions que j'ai réalisés avec mon designer 3D Fabien Paillissé, mais avec un intérêt tout particulier pour la saison 2016 de Mélanie Astles, première femme à participer à la Red Bull Air Race.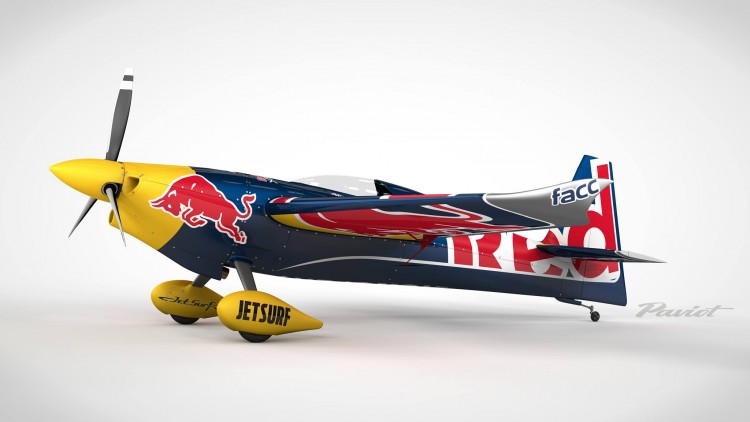 2016 Martin Šonka
Zivko Edge 540-V3
In 2015, the partnership with Red Bull takes off with several paint schemes designed for the famous planes of the Red Bull Air Race. The new Zivko Edge 540-V3 of Martin Šonka will not go unnoticed above Spielberg's hills in Austria…
En 2015, la collaboration avec Red Bull prend un nouvel envol avec plusieurs décorations réalisées pour les célèbres avions de la Red Bull Air Race. Le nouveau Zivko Edge 540-V3 Martin Šonka ne passera pas inaperçu au milieu des collines autrichiennes de Spielberg…